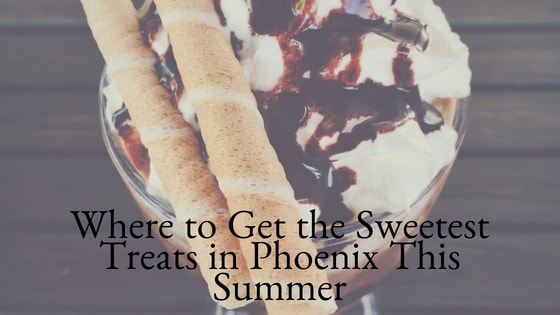 Between the triple-digit temperatures and the ferocious haboobs that we have to deal with here in Phoenix, it's important to make it worth our while, especially during the summer. Luckily, we have fine sources like the Phoenix New Times providing us with a guide to tantalizing sweet treats right in our backyard. The next time the car thermometer is looking ugly, head to the metropolitan PHX area to try one of these special places:
For a funky twist on a classic Thanksgiving dessert dish, head to Beckett's Table for a fig and pecan pie. If you haven't yet had them, figs are so sweet, tender, and perfect for sizzling summer afternoons. It's the perfect complement to the crunch of the pecans. PNT's Allison Young recommends this dish, heralding it as an "elevated version that invites some unlikely, and much needed, players to the party."
If you're known to have a bit of a sweet tooth, Young knows the best local dessert for you! Outside Phoenix in North Scottsdale, make a special visit to Zinc Bistro for their Zinc Valrhona Chocolate Soufflé. This isn't your grandmother's chocolate pudding—this is a seriously modern marvel packed with flavor, texture, and a seductive appearance to match. After a long day of car shopping for your latest and greatest addition to the Toyota family, treat yourself to this succulent dish.
The Dressing Room here in Phoenix makes an impressively delicious churro ice cream sandwich. A flavorful mix between a classic Mexican dessert and an American dream, PNT's Young reports nothing but sweet sentiments about this sweet treat. If the kids have been well-behaved all day or if you need a new date night idea, this is a fantastic place to venture.
This summer, do yourself a favor and shop—and eat—local! The Phoenix New Times has some great ideas for meals, activities, and more. And of course, for all your transportation needs, look no further than your humble Larry H. Miller Toyota Peoria crew. We'll get you happily settled into the 4Runner, Prius, or Camry of your dreams. Visit our website to get started!