Rental FAQs - (888) 824-2821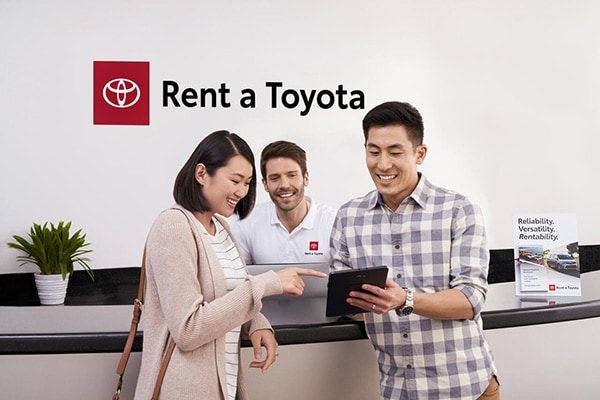 Frequently Asked Questions
1. What are insurance replacement rates?
Insurance replacement rates are based on calendar day, which means that every day of the calendar counts as one day's rental. Insurance companies reimburse you and are directly billed in that fashion.
2. Do you offer insurance replacement rates?
Yes. We do offer insurance replacement rates.
3. Will you bill my insurance company or any other 3rd party company?
Yes, we will bill any 3rd party company as a courtesy to our customers with their approval. All rental and claim expenses will remain the sole responsibility of the renter. If the 3rd party fails to remit payment within 30 days of billing, you will be held responsible for payment.
4. What do I need to rent a car?
You will need a valid driver's license, a major credit card and full transferable coverage insurance on one of your vehicles.
5. Will my existing insurance cover me when I am driving a rental?
Yes, in most cases your existing insurance will cover your liability while you are driving a rental.  Call your insurance company to be sure.
6. Do I have to be a certain age to rent a car?
You must be at least 21 to rent a vehicle.
7. Can I smoke in my rental car?
No, to maintain a clean fleet of vehicles for our customers, all vehicles are designated non-smoking. Smoking in rental vehicles may result in an interior detailing fee of $150.
8. Can I return my rental car really dirty?
No! Any vehicles returned excessively dirty may incur a detailing fee.
9. Do I have to fill up the gas tank before I return my rental?
Yes. We require that if it goes out with a full tank, that you please bring it back with a full tank or you will be charged an additional gas fee to have the tank filled.
10. Are there specials for daily, weekly or monthly rentals?
Larry Miller Toyota Rent-a-Car offers special daily, weekly and monthly rates on most of our vehicles. To qualify for our special rates, please call (888) 824-2821 or stop by, we are located in the showroom dealership at 8633 West Bell Road, Peoria, AZ 85382.
11. When can I return my vehicle?
You may return your vehicle at any time during our hours of operation.
We are open:
Monday through Friday: 7:00am to 6:00pm
Saturday: 7:00am to 5:00pm
Sunday: CLOSED
If you return your vehicle after Larry Miller Toyota Rent-a-Car's hours of operation, we have an after hours drop off box that you may leave your keys in. Keep in mind you will be responsible for any damage or additional charges when we open the next business day.
12. Do you have child safety seats available in your rental cars?
No, unfortunately we do not offer any child safety seats at this time.
13. If I like my rental car, can I purchase it?
Absolutely! If you are interested in purchasing your rental vehicle, please speak to our Rental Manager.
14. Can I travel out of state with my rental vehicle?
Yes. You have 200 free miles per day and a $.20 cent per mile charge after that will be added to your bill. For further questions, feel free to contact us and we will be happy to assist you.
15. Are Toyota Rent A Car rates competitive with other rental agencies?
Yes, we are committed to satisfying current and prospective Toyota owners.  We are able to provide very competitive rates since the vehicle and the facility are part of our dealership.  Please contact us for rates.
16. Can I rent at one location and return it to another location?
At this time, if a Toyota has been rented from us, the vehicle must be returned to our dealership.
17. Can I rent any Toyota vehicle?
We have a wide variety of the
latest models available for rent.
Please contact us for available models.
18. Can I take the vehicle I rented into Mexico or Canada?
Toyota Rent A Car vehicles are allowed in the continental United States, Alaska and Canada. They are not allowed in Mexico at this time.