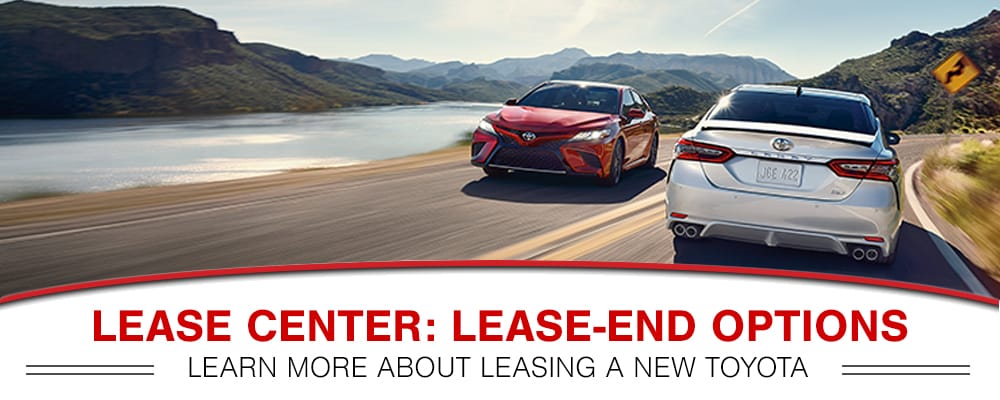 Are you in the last year of your lease? It's already time to start considering your lease-end options.
During the final year of your lease, you should begin considering your options. Perhaps you'd like to roll into a different lease, with a brand new, fully tech-loaded Toyota model. Or maybe you'd like to look into purchasing your currently leased vehicle. There are quite a few choices to consider, and to help you negotiate all your lease-end options, we've complied some information for you here. We'd also like to invite you to contact us at Larry H. Miller Toyota Peoria any time - we are here and available to answer all your questions.
Lease End Timeline
How far out are you from your lease end date?
It's time to start considering your lease-end options.
Your first choice to think about is whether or not to keep your current vehicle or get something new. Often, people form a strong attachment to their car or truck and don't want to give it up at lease-end, while others enjoy keeping up with the latest technology and features. Or your life situation may have changed and you need something bigger - or something smaller. Whatever your situation, this can be a difficult decision, so it's best to give it some careful consideration early on, and avoid having to make a rushed decision.
At 4 months out, it's time to begin preparing for the end-of-lease process.
Schedule your Pre-Return Vehicle Inspection to avoid any unexpected fees and expenses.

This is also a good time to schedule a Trade-In appraisal if you are thinking about trading in your lease.

Decide if you want to make any repairs.
Schedule an appointment with us.
Satisfy any Lease Liability Fees/Charges.
Schedule Inspection
2 Months to Go on Your Lease - Time to Begin the Final Steps!
If you've been using our Larry H. Miller Toyota Peoria Lease Center resources, you've probably spent the last couple months thinking about what you want to do when your lease ends, and have most likely come to a decision now. Whatever you've decided, our staff are here to help you through the end-of-lease process, and depending on your decision, help you pick out your next vehicle. You may want to view our current offers on new Toyota models.
Schedule your appointment by filling out the form below or give us a call at 1-866-748-4281.
Contact a Toyota Leasing Specialist