The all-new 2021 Toyota Sienna is coming to Peoria, AZ!
This is not your mother's minivan
The all-new 2021 Toyota Sienna has been completely redesigned from the ground up and offers a rich mix of practicality, versatility and creature comforts. An all-new hybrid power train and available all-wheel drive are the biggest changes, but it's a long, long list, so let's dive in and have a look!
Why a minivan when we have 3-row SUVs?
When it comes to choosing the perfect family vehicle, especially for extended family use, an SUV sometimes just doesn't cut it. At one end of the spectrum, you may need to make room for Grandma, and at the other, you may have a close grouping of young ones - and wouldn't it be nice for all these folks to be able to easily enter and exit the vehicle without needing to be lifted, hauled, pushed, boosted or otherwise handled as they try to climb in or out of a 3-row SUV? And as some of us have noticed, the more people an SUV holds, the higher the step-in seems to be. Enter the all-new 2021 Toyota Sienna, offering you kick-open and closed sliding side doors and lower step-in height that makes it easy for toddlers and seniors to climb aboard. And how often have you cringed in a parking lot when your grade schooler threw open the back door and dinged the neighboring vehicle? Granted, that's an altruistic plus, but there's also the more self-centered benefit of easily getting into your vehicle when someone parked a little too close while you were shopping. So before you write off minivans, learn a little about this all-new 2021 Toyota Sienna, with its sleek and sculpted new design, added versatility and new Platinum-level luxury model, for a lot less than you'll pay for a top-of-the-line full-sized SUV.
Infotainment and convenience features abound in the all-new Sienna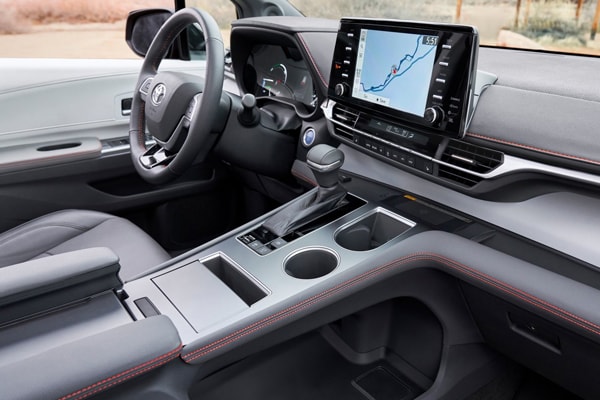 When you shop the all-new 2021 Toyota Sienna in Peoria, AZ, you'll find the list of standard features to your liking: a 9-inch touchscreen providing integration with Android Auto, Apple CarPlay and Amazon Alexa for all your infotainment enjoyment. And if that's not enough, every Sienna is equipped with seven USB ports so all your passengers can enjoy their own devises, along with satellite radio and a Wi-Fi hotspot. Your audio systems will vary by trim level from the standard Toyota Audio with 6 speakers, Bluetooth enabled advanced voice recognition and music streaming to Toyota Audio Plus with 8 speakers or Toyota Premium Audio with navigation and JBL 12-speaker sound. Each option has a different set of trial subscriptions ranging from 3 months to 3 years.
If you really want comfort and convenience, you should look at the Platinum trim, which includes standard features like the 10-inch color headsup display, the Bird's Eye 360-degree camera, front-and-rear parking sonar, onboard vacuum and refrigerator in addition to the great features found on lesser trims like the kick-type hands free dual power sliding side doors and back door, four-zone auto climate control, leather trimmed heated and ventilated front seats, 8-way power adjustable driver's seat with memory function and power lunbar support -- and the list goes on.
Plan your next getaway in the 2021 Toyota Sienna
You'll enjoy road trips the all-new Sienna - there are so many features that will make life on the road more enjoyable. Like the available onboard refrigerator, and the easy clean-up ability with the built-in vacuum. We've already mentioned all the infotainment features, but there's also the comfort aspect. Sienna provides a smooth, quiet, comfortable ride. Sienna's built on the TNGA-K platform, which results in reduced cabin noise, plenty of space, and strength that enhances safety and cuts down on vibration. Configured for 8 passengers, the long slide second row seat with its stowable middle seat provide plenty of room to stretch out. Opting for models that offer the available Super Long Slide second-row captain chairs maximizes comfort when traveling with extended family or a group of adults. These 2nd row captain chairs slide 25 inches, allowing long-legged passengers optimum comfort. The Sienna also has a tow rating of 3,500 pounds and offers an available tow hitch and 1,500-watt inverter with 120V AC outlet if you're planning any camping adventures.
All-New 2021 Sienna Highlights
Made in the U.S.A.
Bold New Design
Standard Hybrid Powertrain
Available All-Wheel Drive
Standard Toyota Safety Sense 2.0 with Automatic Emergency Braking
Standard Blind Spot Monitor on All Grades
New Platinum Luxury Model
Available Onboard Vacuum and Refrigerator
Tow rating up to 3,500 pounds
Alert Me When the New 2021 Sienna Arrives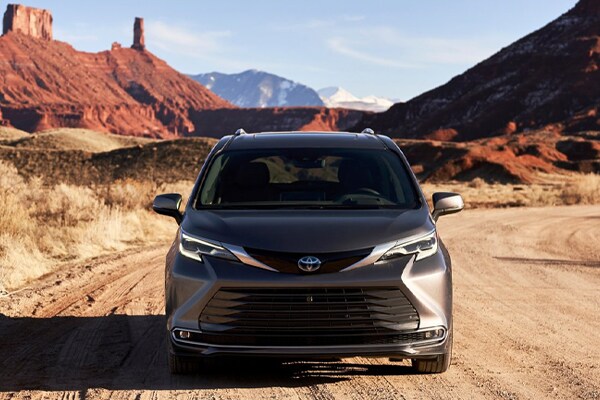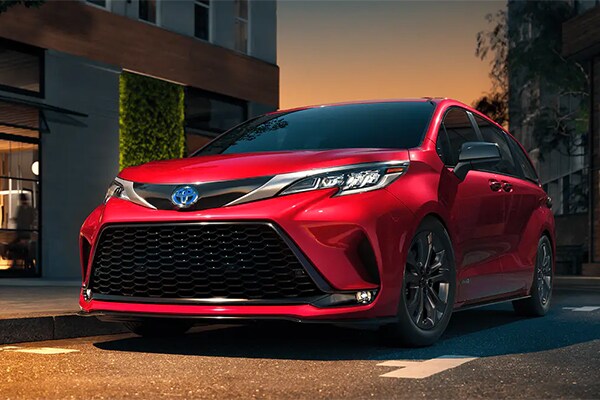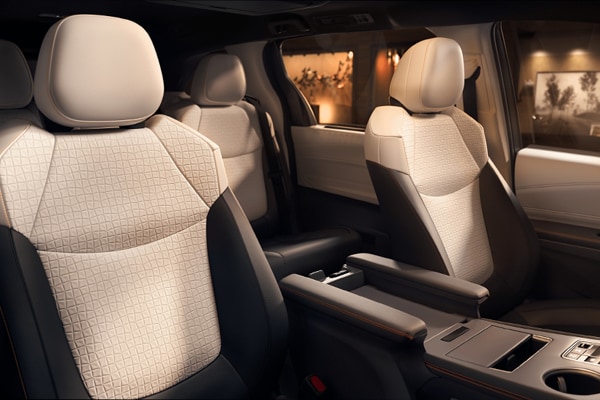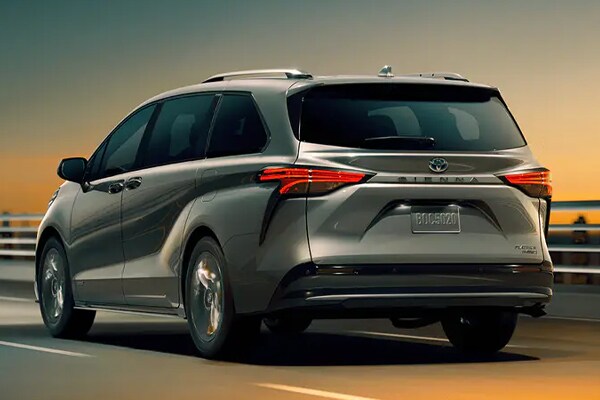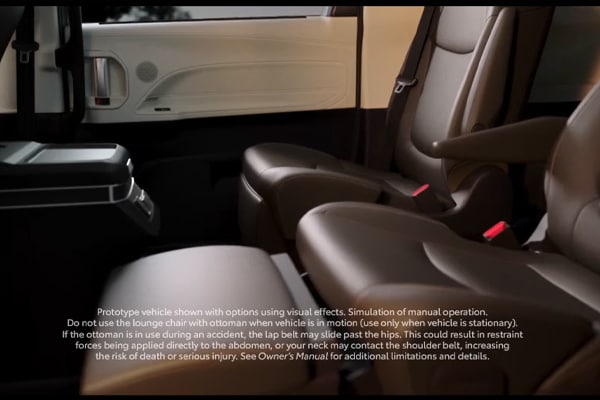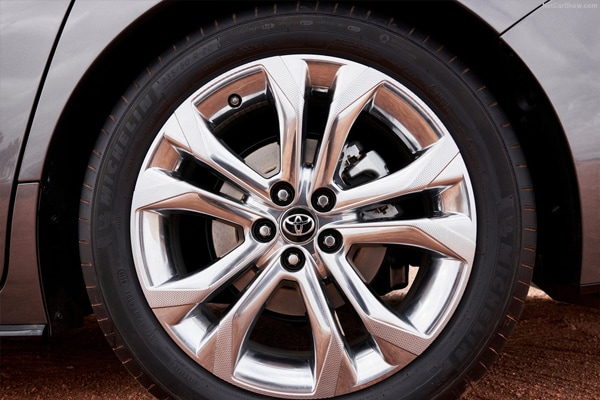 2021 Sienna's Hybrid Powertrain and On-demand All-Wheel Drive
Fewer stops at the gas station is always a welcome change. Thanks to the all-new 2021 Toyota Sienna's efficient hybrid power system, you'll enjoy 33mpg combined fuel economy (manufacturer estimated). 2021 Sienna is a hybrid, not a plug in. The battery is charged during normal operation. The powertrain is composed of a highly efficient 2.5-liter DOHC 4CL engine which works together with two electric motors. This system delivers 243 total horsepower and offers selectable driving modes should you want to focus more on stronger acceleration using SPORT, fuel efficiency with ECO or split the difference and stick with NORMAL mode. Toyota's powertrain warranty covers all hybrid-related components, including the HV battery, for 10 years/150,000 miles, whichever comes first.
Sienna's driver instrument panel includes real-time status of the hybrid system output and regeneration, plus offers up suggestions for optimal acceleration and provides actual scoring if you want to improve your eco-friendly driving skills. For the ultimate in eco-driving, you can activate the Sienna's PED system (Predictive Efficient Drive), which can store road and traffic conditions and analyze driving habits in order to optimize hybrid battery charging. Just activate it and drive, and the system will figure out how to use "optimum accelerator pedal release timing guidance" to better optimize fuel economy. This works well especially in hilly areas or in congested traffic.
Sienna's hybrid AWD system varies torque distribution to front and rear wheels based on conditions. Toyota calls it Electronic On-demand All-Wheel Drive, and with this system, a separate electric motor powers the rear wheels whenever additional traction is needed. There is no drive shaft that connects front and rear axles.
Visibility and Safety Features
High seating and large windows offer excellent outward visibility, which is enhanced by a host of technology including the standard backup camera with projected path graphics and available digital rear-view mirror to take over when passengers or cargo obstruct direct line-of-sight through the back. There's also an available Bird's Eye View Camera with Perimeter Scan that shows a 360-degree view of the area surrounding your vehicle. Any 2021 Toyota Sienna for sale in Peoria, AZ will be equipped with Toyota Safety Sense 2.0 with the latest in automotive safety system technology. TSS 2.0 offers up a comprehensive suite of safety technology. A pre-collision system that provides automatic braking along with the ability to detect pedestrians in low light, an intelligent cruise control system, lane departure warnings, blind spot monitoring and rear cross-traffic alerts make up only a partial list of TSS 2.0 inclusions. There are a slew of standard safety systems built into the Sienna that are less obvious -- like the array of 10 airbags. Onboard systems designed to avoid needing those airbags include stability and traction control, electronic assisted braking, anti-lock brakes and Toyota's "Smart Stop Technology." Other smart systems include one especially suited to the Phoenix valley: Rear Seat Reminder, a rear occupant detection system to ensure that nobody gets left behind in the heat.